[ad_1]
Sheets. Microwave. Desk lamp. Water filter. Pictures from my house.
For incoming freshmen, the list of things needed to live comfortably in a dorm can be overwhelming. Some students, however, take the opportunity provided by the ordinary, though often tiny, room to create a new space that they can hope to find every day.
The list goes on — decorative LED lights. Throw pillows. A fun rug. A diffuser of essential oils. A flag. Anything to make the plain gray walls feel a little more like home.
For University of Georgia students, the summer before their freshman year is often spent planning their classes, daydreaming about all the new people they'll meet and experiences they'll have, and coordinating their dorm plans with their roommates.
How you arrange this space you live in offers a chance to express yourself, redefine who you are outside of your childhood home, build community, and ease the homesickness and anxieties that often come with leaving home and settling into a new stage of life.
Spaces reflect the memories that will be made inside them – plenty of blankets and a projector screen predict beloved movie nights, a collection of board games on top of the wardrobe signals rainy days spent competing on a passionate game of Monopoly.
For students who go beyond what is strictly necessary when fitting out their living spaces, the UGA University Housing department organizes an annual competition for the Room of the Year. Students submit photos of their rooms, the housing committee selects the top five, and then it's up to students to vote via Instagram to determine which of their peers' rooms is the best of the year.
Competing for Hall of the Year is tough, but for these students, the process of creating a space where they felt comfortable, happy, and inspired during their first year of college was far more important. than any potential price.
Leighton Wehrlin
The red glow that floods the bedroom of international affairs major Leighton Wehrlin is reminiscent of the bustling glow of Sanford Stadium at night. Upon entering, there is no doubt that you are in the space of a proud UGA student.
Wehrlin's room was selected as one of the top five rooms of the year. Flags, logos, bedspreads, pillows and UGA prints are strewn around the third-floor room at Boggs Hall. Growing up in Florida, Wehrlin wasn't always a huge UGA fan, but his mother was.
"My mother [has been] a huge lifelong Georgia fan," Wehrlin said. "When she found out that I had decided to go here, she was super excited and wanted to do it all. … [The room] certainly wouldn't be where it is without her.
According to Wehrlin, basics like a mini-fridge are important for making your room comfortable and functional. One item that's more easily overlooked and that Wehrlin says is crucial to any room is a nightstand that can be attached to the side of a raised dorm bed.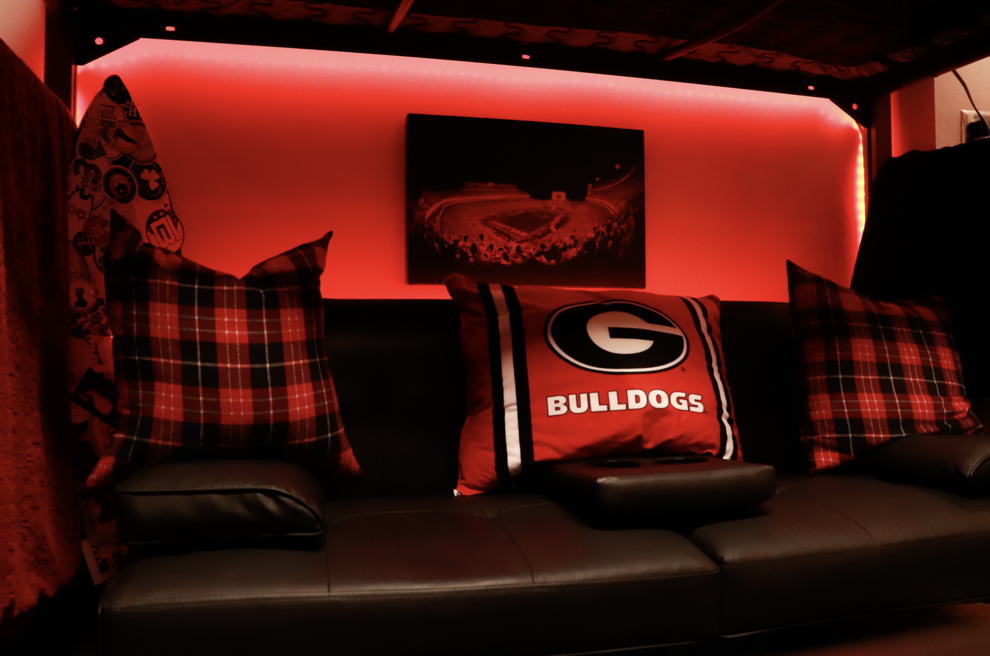 Wehrlin and his roommate, Trey Brennan, started planning their room as soon as they knew they were going to UGA. Wehrlin and his mother took the reins, but Brennan was very willing to go along with their plans for the play. According to Wehrlin, going the extra mile to make his room feel like home isn't something he regrets.
"Putting the effort is definitely worth it," Wehrlin said. "You're going to have a great outcome either way and people are going to love being in your room. It's always a great conversation starter. People are always like, 'This is your room, isn't it? is so cool.'"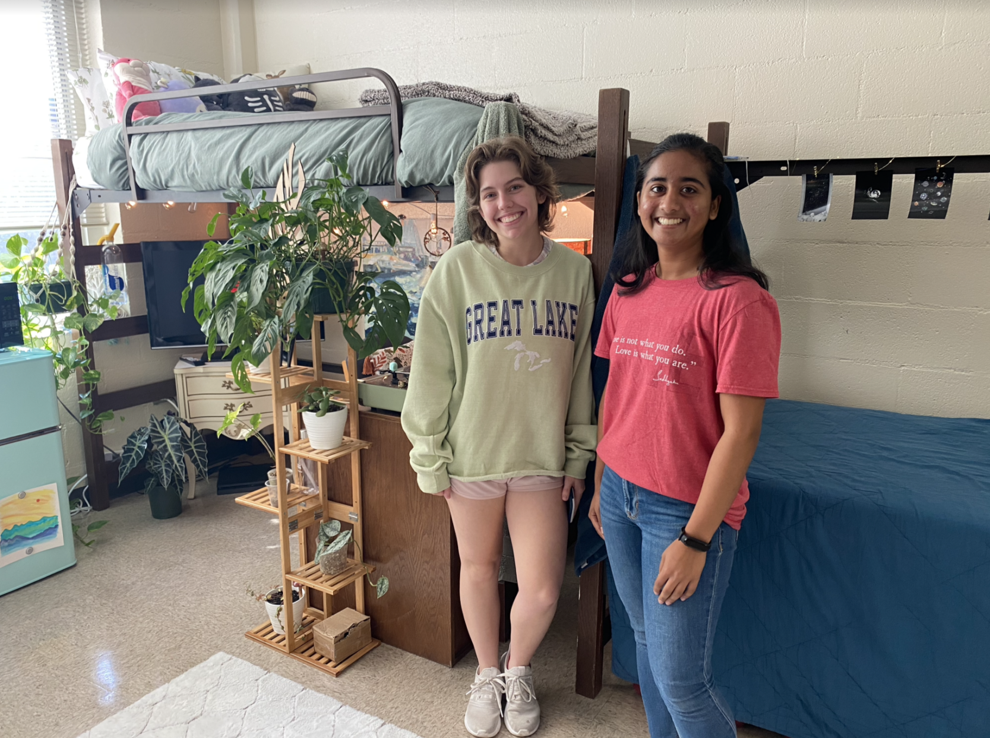 Arya Telang and Emily Israels
Freshman roommates Arya Telang and Emily Israels second-floor room at Morris Hall are bathed in sunlight from their large window.
Israel's various plants catch the sun's rays from across the room, breathing life and personality into the room and drawing a bit of nature into the space. Fairy lights twinkle from both beds, making the space feel welcoming and warm.
Although their room didn't make the top five, Teland and Israels still enjoyed putting effort into creating a space that felt authentic and comfortable to them.
"Having the freedom to decorate your own space definitely allows you to really find your identity," said Israels, a psychology major and art minor.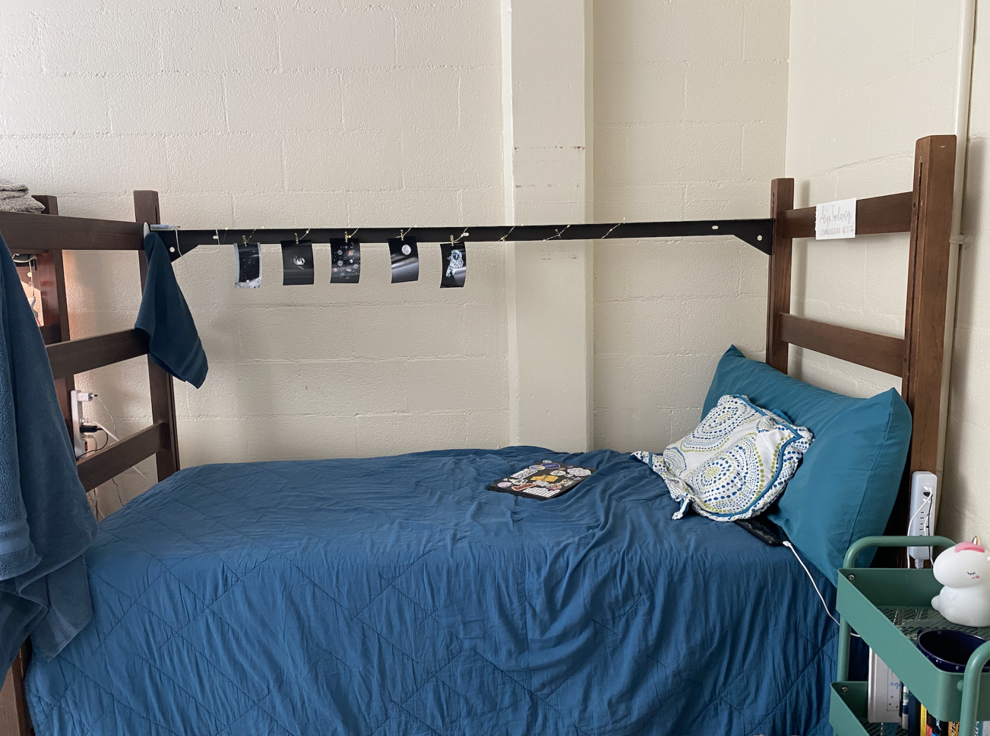 For Telang, a future Business Management Information Systems student, decorating their room was more an opportunity to bring the comforts of her childhood home into this new chapter of her life than to reinvent herself and her space.
"For me, it was having the comfort of my own room here," Telang said. "Keeping the same colors and things I love makes for a more positive space instead of feeling homesick all the time."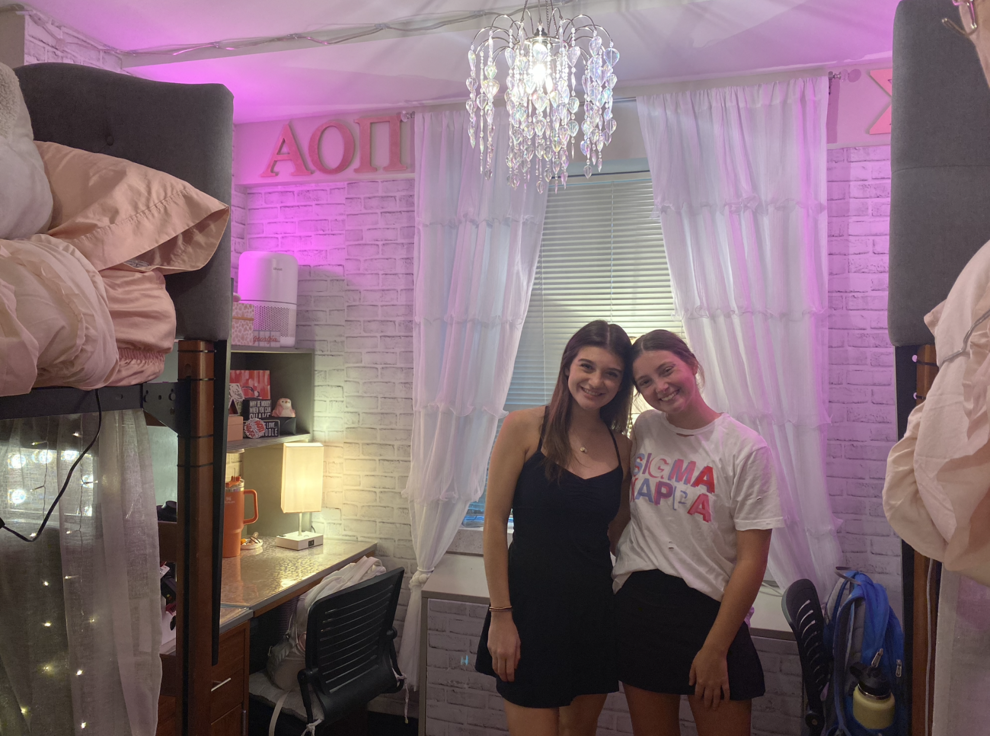 Ava Williams and Sarah Blanks
Ava Williams and Sarah Blanks' second-floor bedroom at Russell Hall has won the 2022 UGA Room of the Year competition. It is evident upon entering their room the amount of careful planning, hard work and dedication that has gone into devoted to their space.
Perfect coordination is evident in their bedroom, with everything from their bedspreads and blankets to their matching sorority letters. Two chandeliers hang above it all, casting a twinkling light around the small room.
Williams, a first-year biology student, took the initiative when planning his bedroom. According to her, their dorm is very similar to her room at home in Lawrenceville, Georgia – light, airy, girly and refined.
Blanks, a first-year communication science and disorders student, was happy to accept Williams' plans for their bedroom. When Williams and her mother took over most of the planning for their bedroom, Blanks was happy.
"I'm super opinionated and [Blanks] isn't, so it was kind of funny," Williams said.
A last-minute decision ended up being Williams and Blanks' favorite part of their bedroom – the rug. Williams and her father cut a piece of beige carpet to the exact dimensions of their bedroom, which complicated move-in day, but ultimately left them with a soft, welcoming floor instead of the standard Russell Hall laminate wood floors .
Due to the effort they put into their bedroom, Blanks and Williams have become automatic hosts to their friends who live in their hall.
"I love being the room that everyone comes in," Williams said. "It's kind of convenient for us and it makes it more intimate…because we have kind of a common space here."
Even outside of winning the Room of the Year contest, Blanks and Williams continue to enjoy the benefits of putting as much effort into making their bedroom as personalized and enjoyable as possible.
"It's nice to know that you have a place that you really like and I really like my dorm room," Blanks said. "It's nice to know that after class I can come here and feel comfortable."
[ad_2]
Source link