[ad_1]
Of course, you could say that Valentine's Day is a commercialized holiday whose sole purpose is to get us to go out and spend money on the card/candy/jewelry companies that cash in every year. But a less cynical friend might say that Valentine's Day depends on how we choose to view it: it has the potential to spark creative and meaningful gifts, reminding us to show those we love how much they mean to them. we. What I personally love most about the holidays is its ability to spark an inner romance that I'm often not as in touch with during other parts of the year. Whether it's buying me lingerie or enjoying a piece of very good dark chocolate, I fully accept it.
To get in the mood, I invited a few friends to a Valentine's Day brunch to inspire Valentine's Day flowers, recipes, and table ideas for your own gatherings this year. Whether you're celebrating with your kids, a romantic partner, or hosting a Galentine soiree, I hope you take home some ideas that will spark a romantic, sultry, and delightful Valentine's Day.
special thanks to Ashleigh Amoroso Studio, our location for this shoot.
Need a centerpiece idea for Valentine's Day? Look no further than peonies
There are a few flowers that instantly put me in a romantic mood: roses, ranunculus, and of course, ruffled and layered peonies. I love peonies so much that when I was planning my own wedding 13 years ago, I intentionally skimped on some of the decor so that I had budget left over for peony bouquets on the reception tables and in my bridal bouquet. And they were worth it!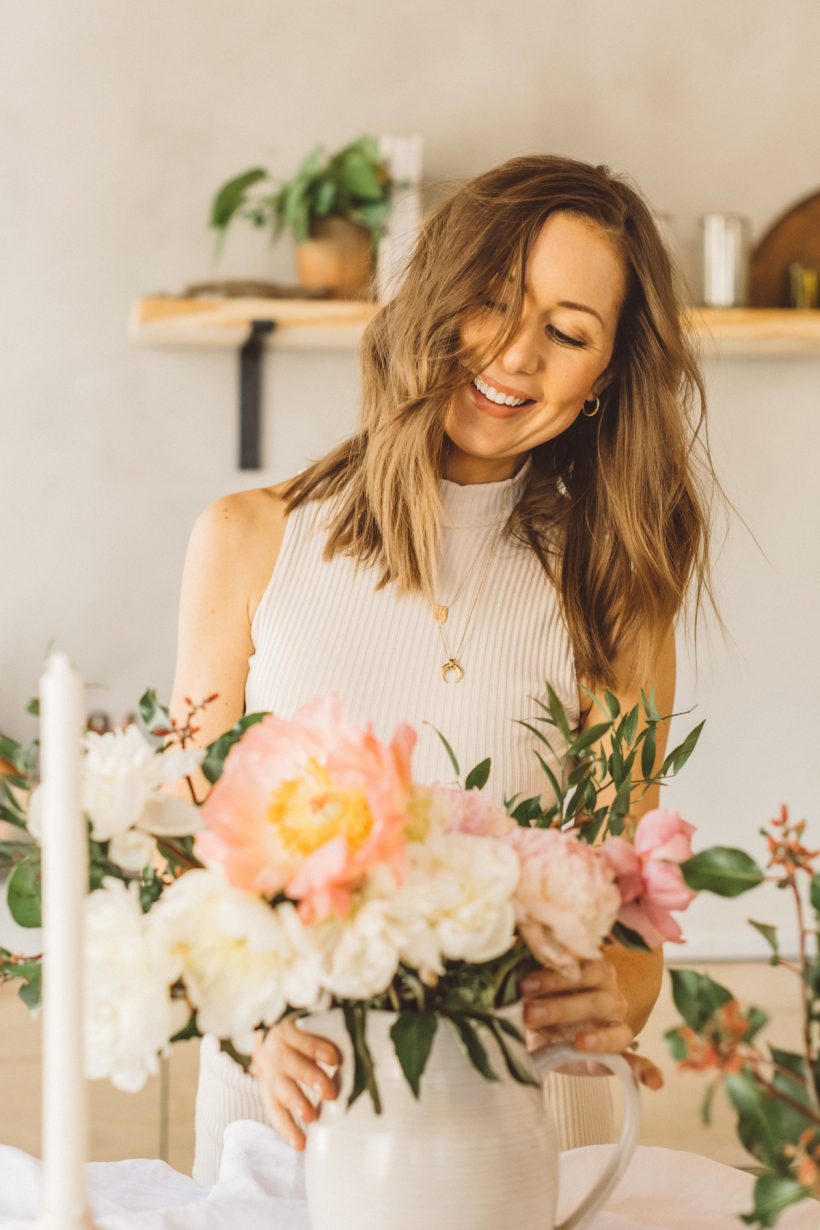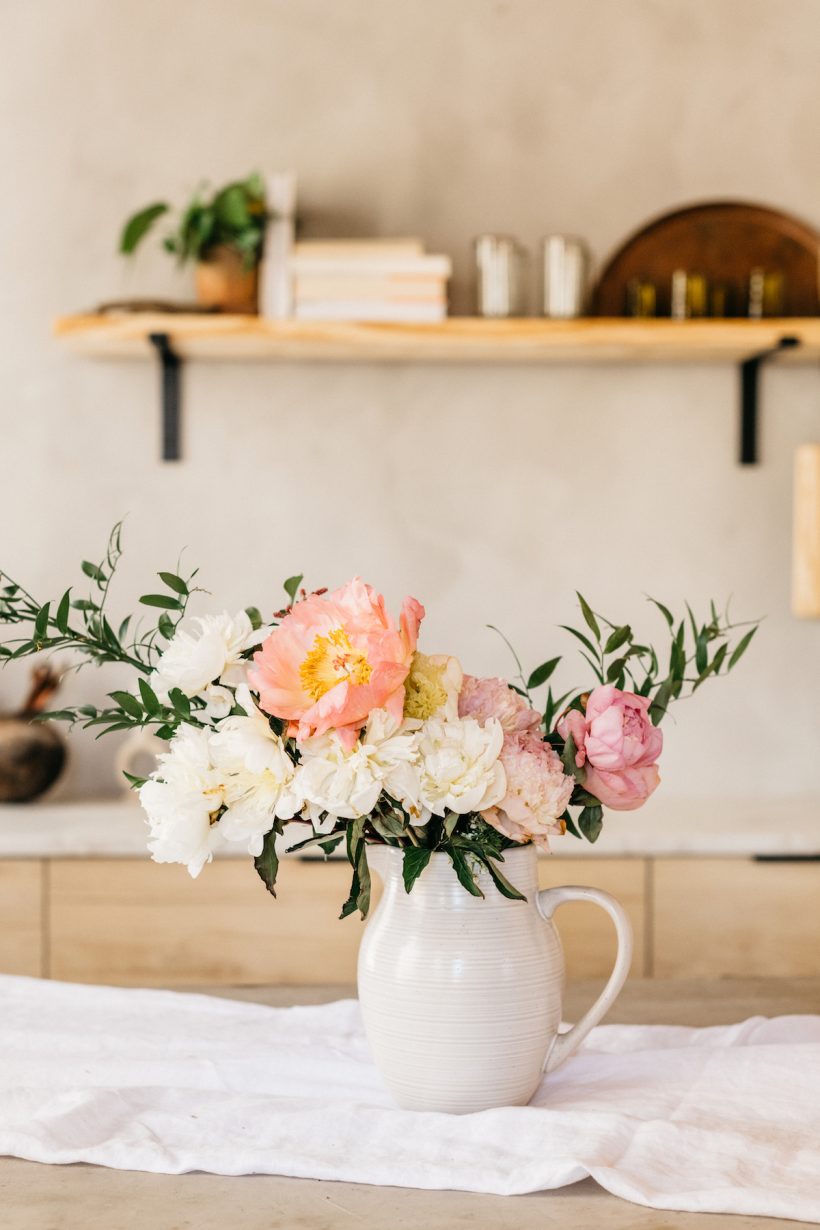 I'm an advocate for the fact that we all buy each other flowers as often as possible, but especially on Valentine's Day. And it doesn't have to be very expensive or require flower arranging skills. Usually, I buy one type of the flower that best suits the flower market and just arrange them. For this arrangement, I used a ceramic pitcher with a 6″ opening, then added some green vines to create an asymmetrical composition that is dramatically high on one side, gently cascading down to the kitchen counter. 'other.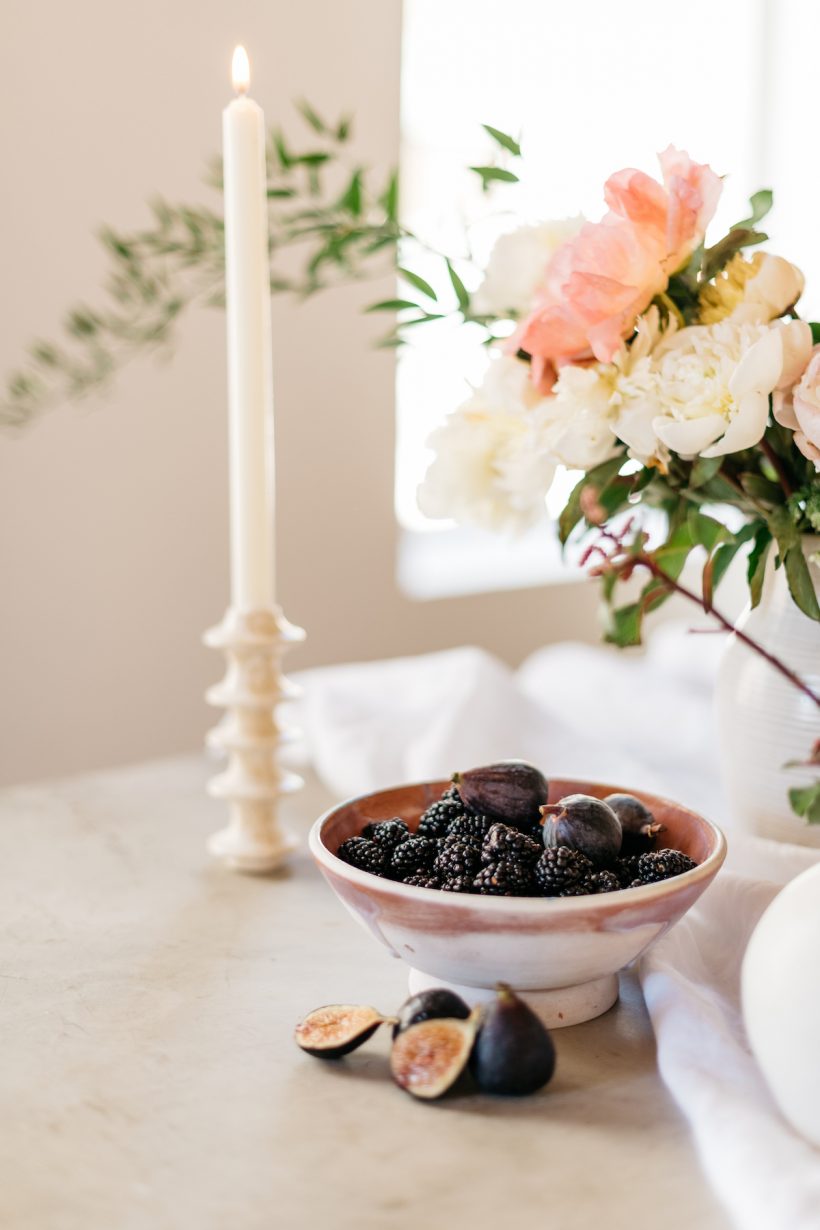 Simple but Elevated Table Decoration Ideas for Valentine's Day
I wanted my table to be both romantic and totally simple, so I set it up "buffet style" by placing the food on the counter, with piles of plates, silverware and glassware that everyone everyone could seize to help themselves. This table setting is proof that a casual setting can still feel truly special: the flowers, beautiful ceramics, and carefully garnished dishes are elevated yet approachable.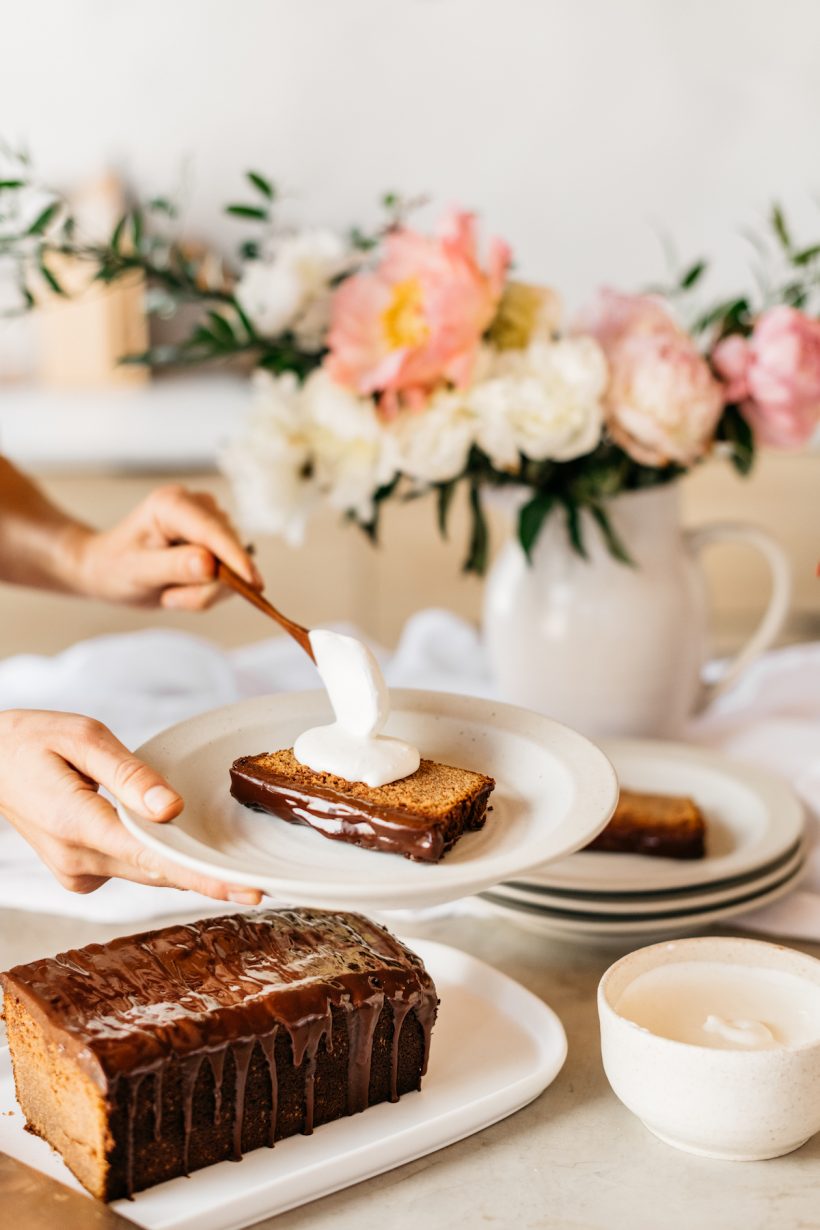 These Farmstead Stoneware Salad Plates from Pottery Barn look handmade and so special – in a simple palette with slight variations that mimic the uniqueness of hand-thrown ceramics. These, and the coordinating bowls, work beautifully with casual everyday settings as well as more formal tablescapes.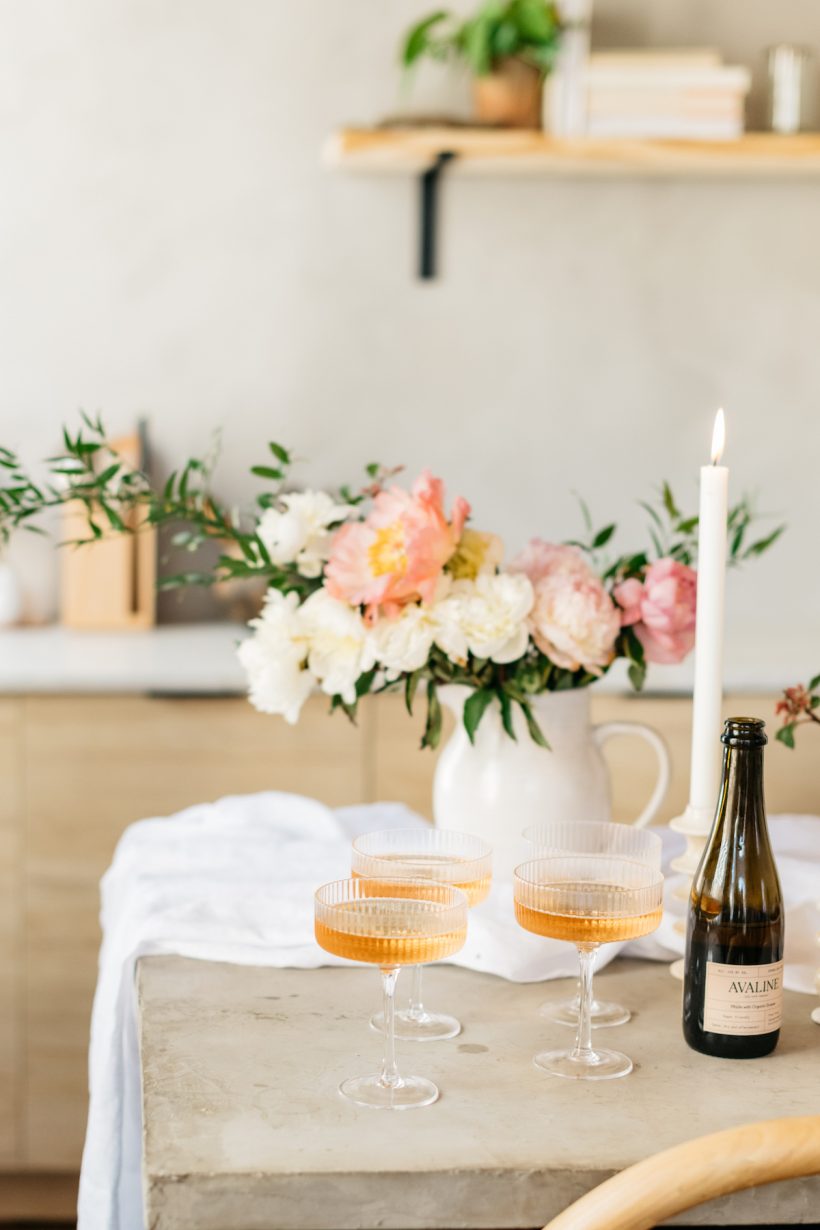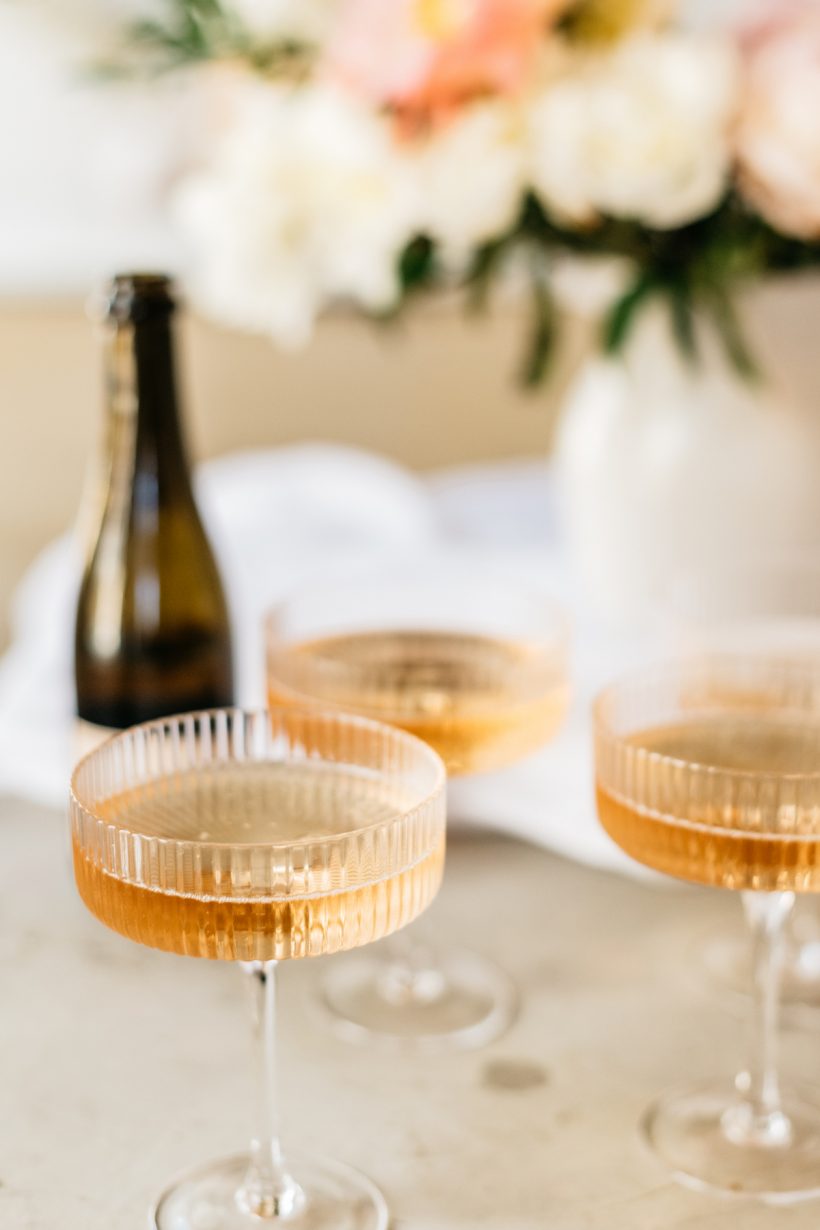 My matte black flatware was a Target steal, and I love the contrast it brings to this table which is otherwise set in a mostly light color palette. And when it comes to Valentine's Day table ideas, there's nothing more romantic than these beautifully textured champagne flutes, especially when filled with bubbly, bubbly, celebratory Avaline Rosé.
*Just for our readers: use code CAMILLE15 for 15% off your order at drinkavaline.com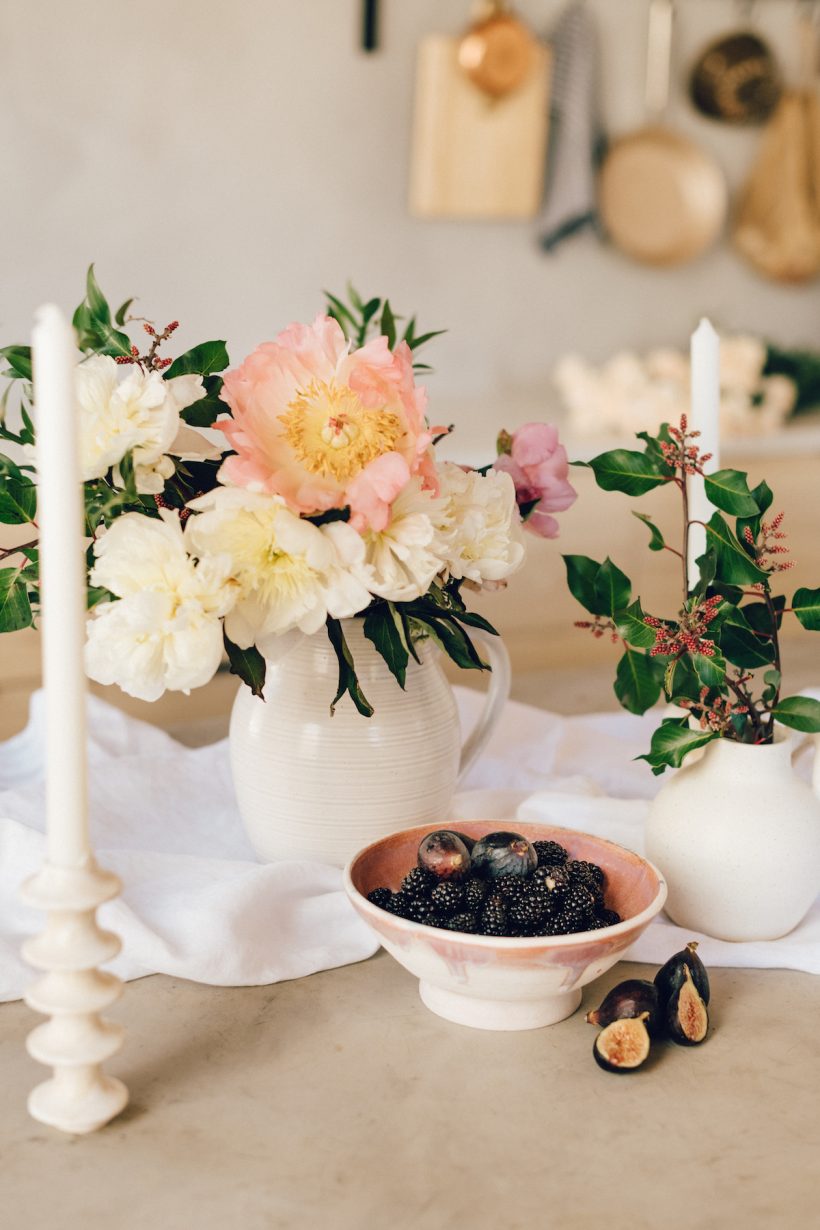 These clay-toned linen towels from Gjusta Goods are my long-time favorite – I love that the hue is a nod to femininity while still maintaining an earthy vibe. And to keep the table from feeling formal, I threw a white linen tablecloth over the top, but artfully kept it messy and crumpled. Pro tip: Get rid of the chunky lines and creases in your tablecloth while retaining the intentional "creases" that give linen its character by spraying it all over with this wrinkle-removing spray.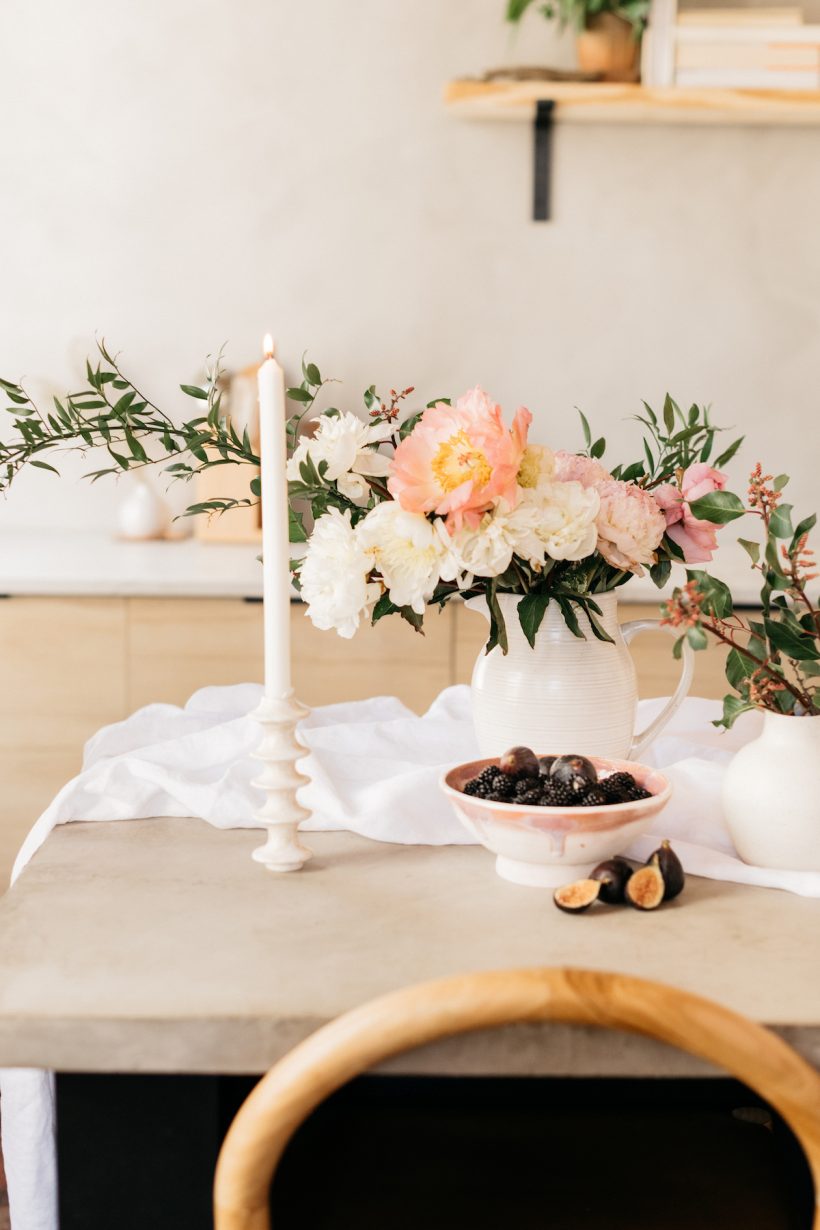 A simple and sexy brunch menu for Valentine's Day
I kept my menu simple but just indulgent enough with raspberry ricotta toast followed by the best chocolate cake you will ever devour.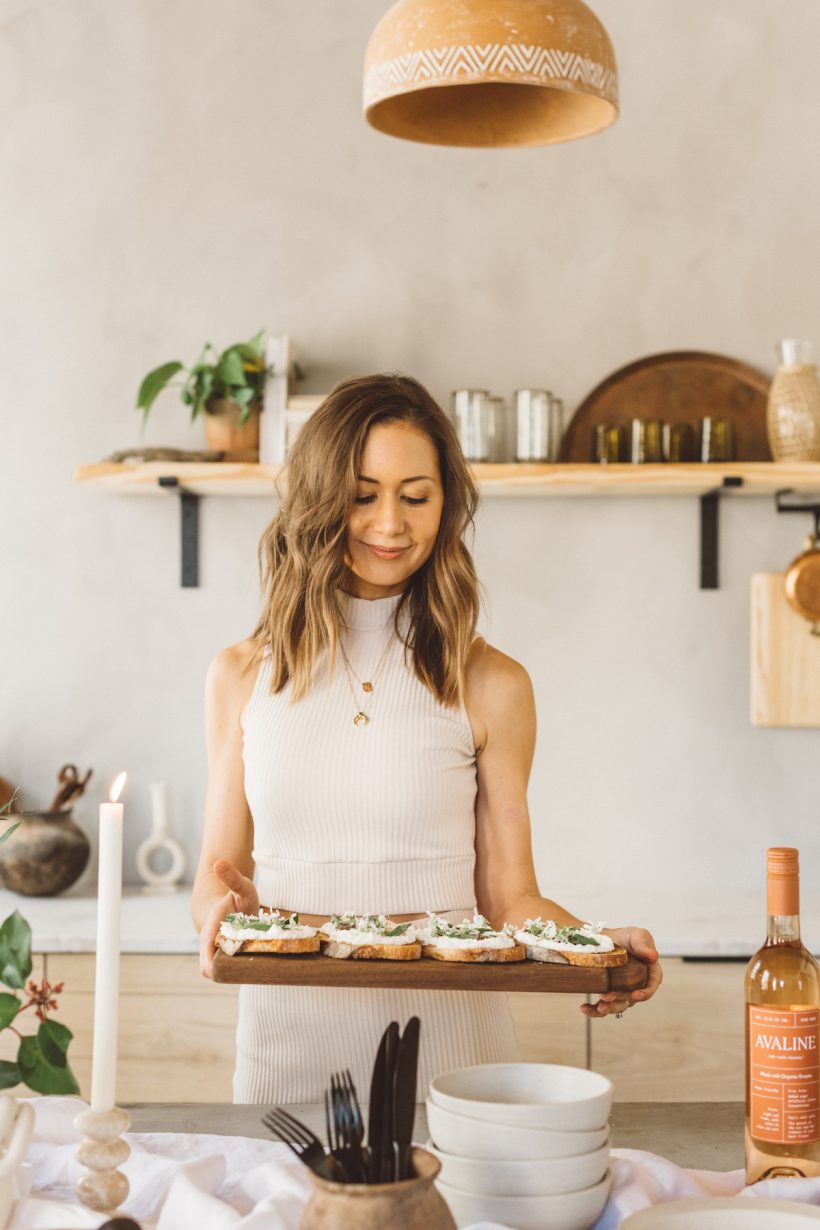 Creamy ricotta topped with a delicious raspberry jam, all spread on crispy sourdough toast…this is basically the best piece of toast you can imagine. This Raspberry Ricotta Toast is pretty special for a weekend brunch with friends, but I also can't think of a better way to elevate it on a normal weekday morning – it's pretty simple to make. at any time.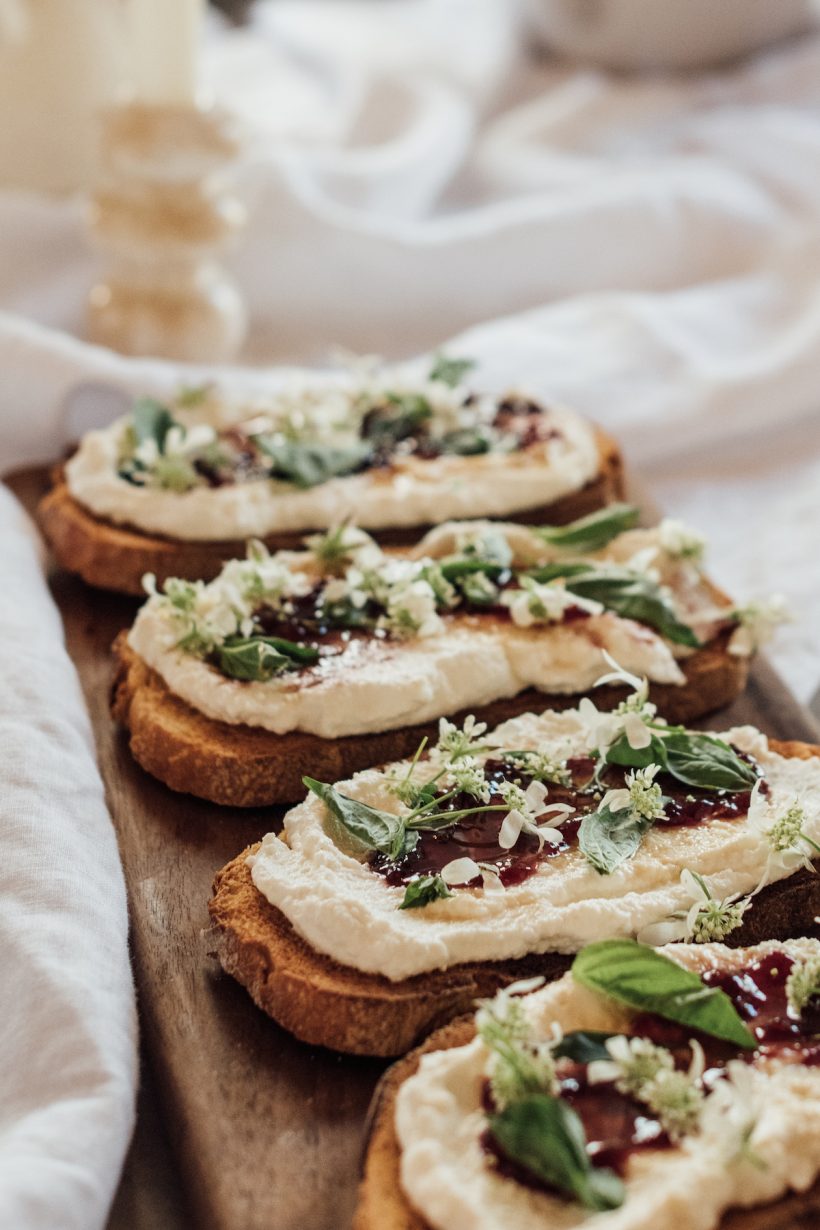 Here's how to do it:
In a small bowl, combine a scoop of whole milk ricotta with a drizzle of honey and mix well.
Toast a piece of sourdough bread (or gluten-free bread) until crispy.
Garnish the toast with a layer of honey ricotta, then pour a little Bonne Maman raspberry jam on top. Use the back of the spoon to spread it lightly into the ricotta.
Garnish with fresh basil or mint leaves and a pinch of flaky sea salt. Flavor!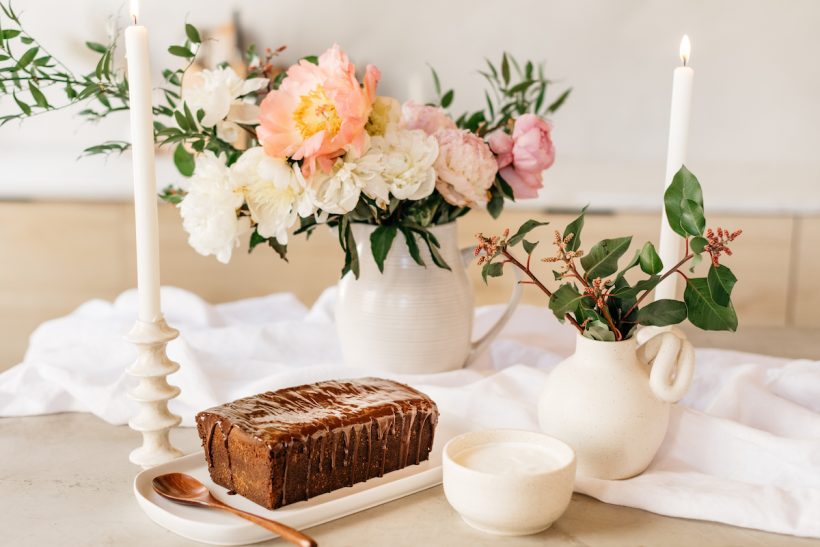 All you need is chocolate
This milk chocolate pound cake, to be exact. My mom has been making a version of this pound cake for years – it calls for a ridiculous amount of melted chocolate in the batter (Hershey's bars, to be exact) but manages to be light, fluffy and decadent all at the same time. I made a few tweaks and added chocolate ganache frosting to this one, and I'll be sharing the recipe here next week.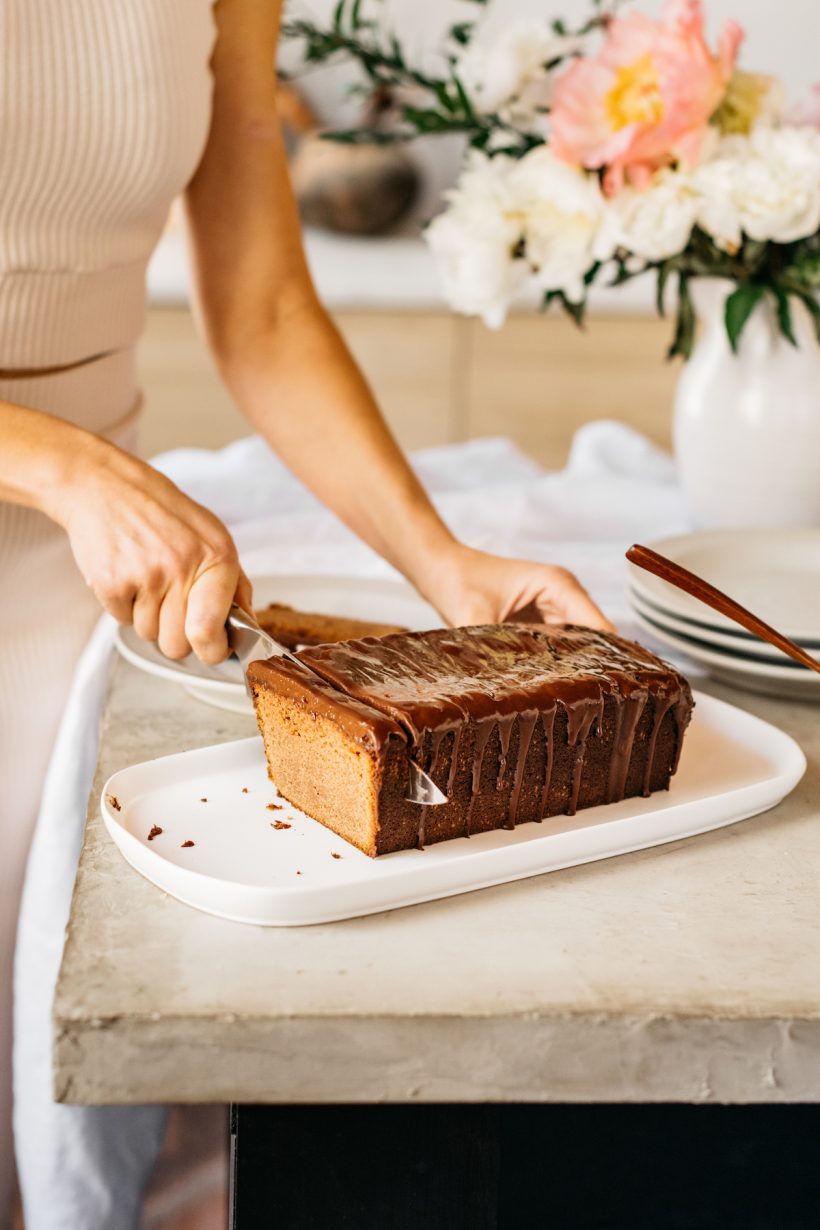 little notes of love
Since I think every meeting is better with a few thoughtful conversation starters, why not use Valentine's Day as an opportunity to go a little deeper with the one you love? If you're spending the day with a romantic partner, place a pile of intimate questions in a bowl and take turns drawing cards and letting them guide your conversation. Some ideas to start: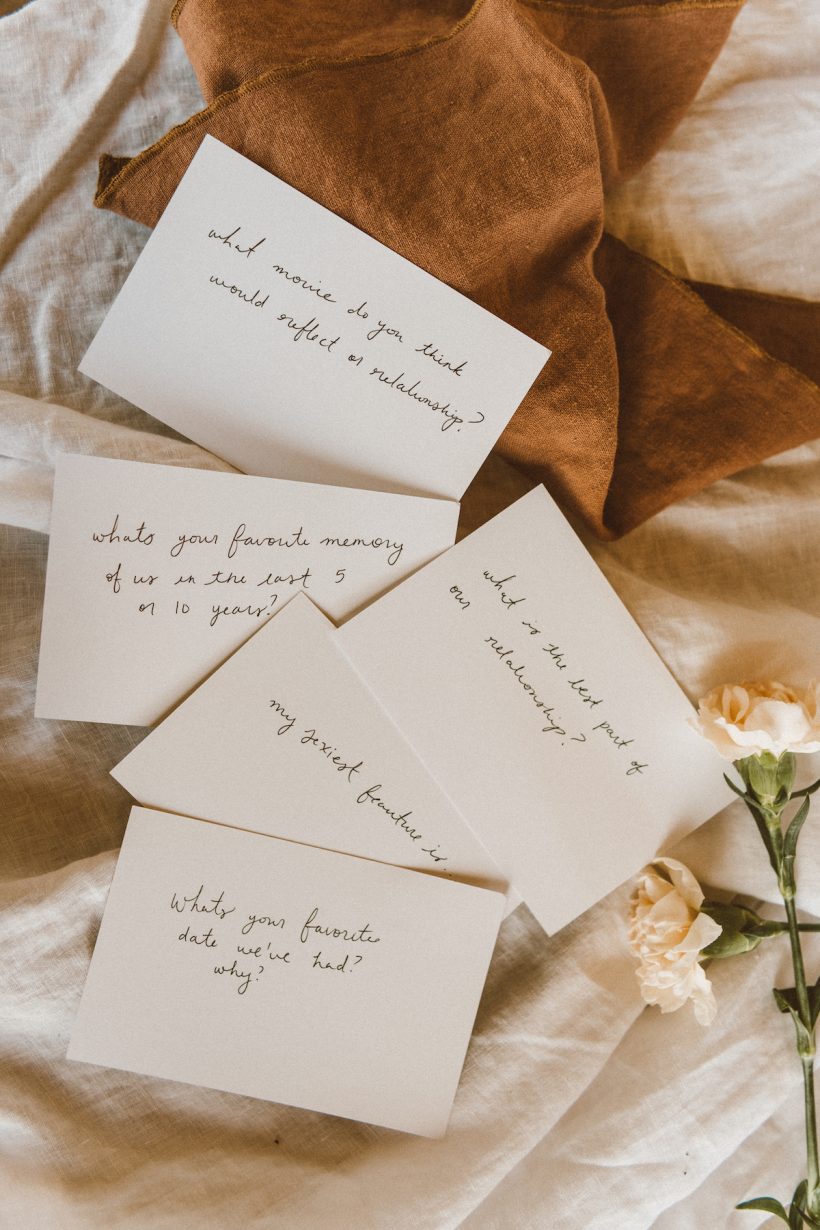 What is your favorite quality?
What's the best part of our relationship?
My sexiest feature is…
What is your best memory of us in the last 5 years?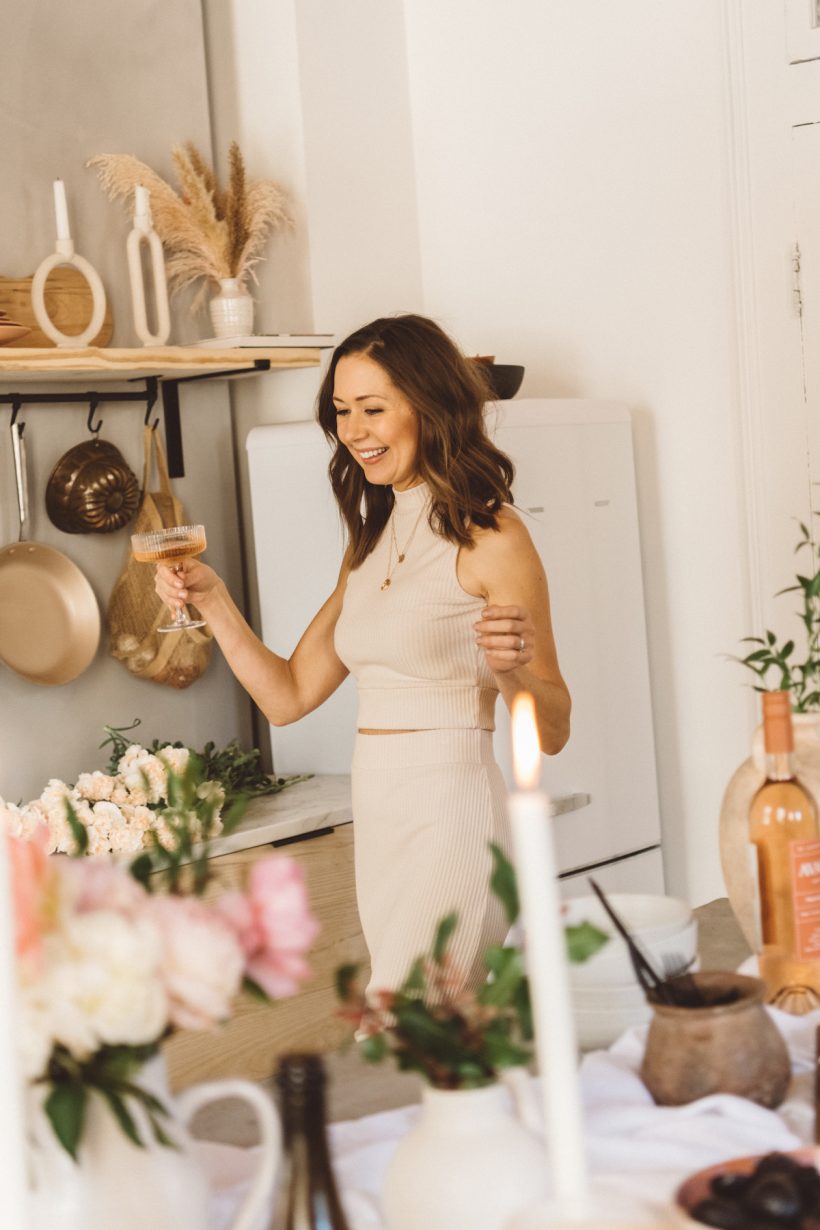 It *might* be even more fun after a glass of champagne (just saying).
[ad_2]
Source link