We find ourselves in Wiltshire on a sunny afternoon. The destination is close to the village of Tisbury in South West England, where we stayed last month at the historic Compasses Inn. Pythouse Kitchen Garden is a little gem of a find, beautifully tucked away in a three-acre 18th century walled garden.
The setting is idyllic and the epitome of the English countryside. Imagine the birds singing and the bees buzzing and foraging in the splendor of the flora. The extensive gardens are bursting with life and color, and the building is a substantial "potting" with wooden facias and century-old red brick.
The gardens are at the center of the whole enterprise, which includes a glamping village, an event venue and a rather delicious lunch spot. From its humble beginnings as a tea room, the Pythouse Kitchen Garden restaurant has received much acclaim. A quick Google reveals rave reviews from some of the UK's top food writers and critics, and it continues to thrive under restaurateur Piers Milburn and head chef Darren Broom. Those who know PKG would probably prefer that we keep their secret, and we're (not) sorry to share the joy.
At PKG, there is a sustainable, seasonal approach to cooking and gardening. Chef Broom works closely with Head Gardener Annie Shutt to create synergy in their garden-to-table principles. The majority of vegetables and fruit are grown on site and otherwise sourced locally. There is also an emphasis on fire cooking, where meat and fish are hand-picked from local producers. With over 17 years of experience, Broom has worked alongside some of the country's most respected chefs, including Marco Pierre White and Michael Caines. He has a passion for wild and foraged ingredients and enjoys incorporating them into his dishes.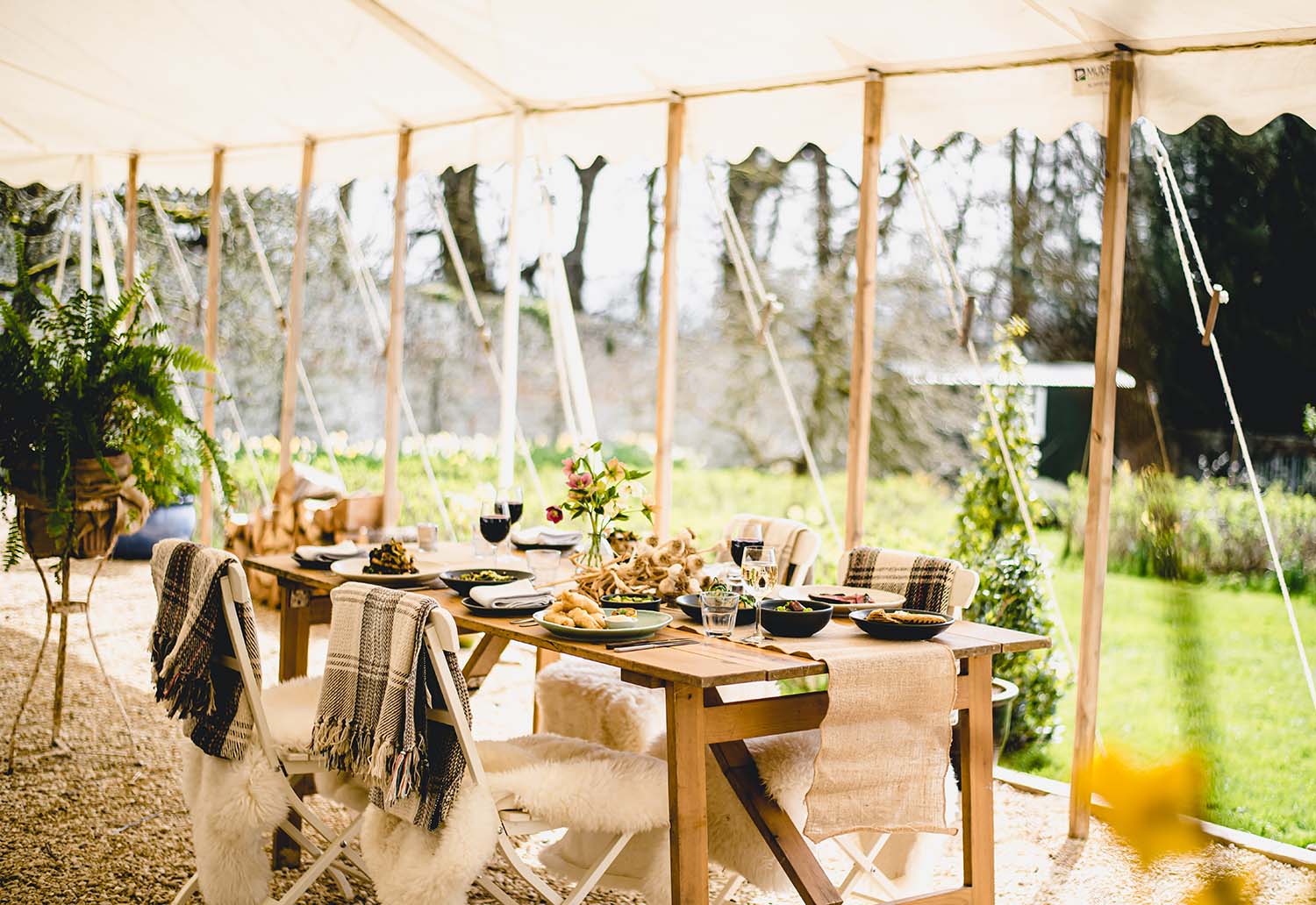 The restaurant is currently only open for lunch and offers a generous and exciting menu. It's not the type of lunch to be eaten in a hurry, and should be savored over time. We sit in a large former potting shed, with an abundance of light, unassuming decor of woodcuts, botanical drawings, plants and a hodgepodge of tables and chairs. Somehow, though, it all feels sleek, relaxed, and rather charming. There is outdoor seating under a canopy with cozy textiles of woolen blankets, sheepskin rugs and an abundance of garden flowers.
The food is seasonal and local, but also innovative and healthy. It is also generous in volume and in passion for fine local products. The menu features an abundance of vegetables, and the protein "dishes" change with the seasons expertly prepared over a real fire. We start our long lunch with a Sage Secret Garden cocktail with their non-alcoholic herbal infused Springster aperitif, fino sherry and rhubarb. It tastes like summer on ice with aromatic fresh sage.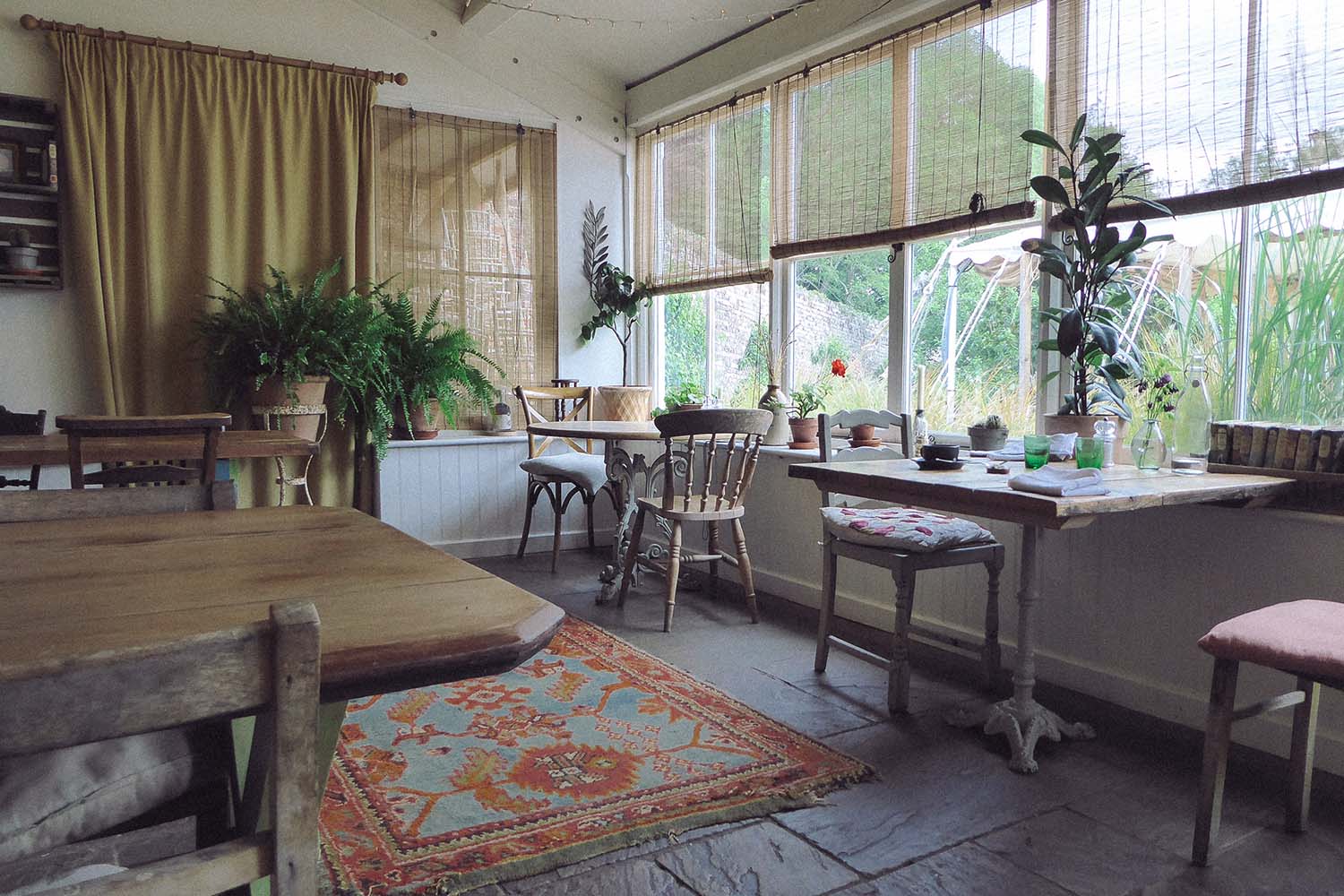 Our "starter" includes house-made sweet and sour pickles with mustard seeds and fennel accompanied by big potato buns and devilishly creamy butter with a side of crispy, savory cauliflower cheese croquettes. Chalksteam Trout with Heirloom Tomatoes is a hearty dish of crispy-skinned fish on an intensely flavorful heirloom tomato broth. The sweetness of the tomatoes goes through the tangy broth, and the small nasturtium capers add spice to the dish. Then there's the epic venison, expertly cooked over the fire, and accompanied by a fantastic beet and rhubarb ketchup that gives off an exciting heat. We also like the trio of vegetable dishes, a real showcase of quality ingredients and complementary flavors.
With full bellies we had the chance to explore the gardens and stroll through the beautiful rural setting feeding our eyes and souls with foxgloves and poppies, lupins, other wildflowers and herbs such as lemon verbena, sage and fennel. Head gardener Annie Shutt preserves the 18th century walled gardens in their traditional splendor and clearly loves what she does. And if, like us, you are a little obsessed with nature, you can follow Annie's Tales from the garden blog. From June, visitors can even pick their own flowers from the garden to take home.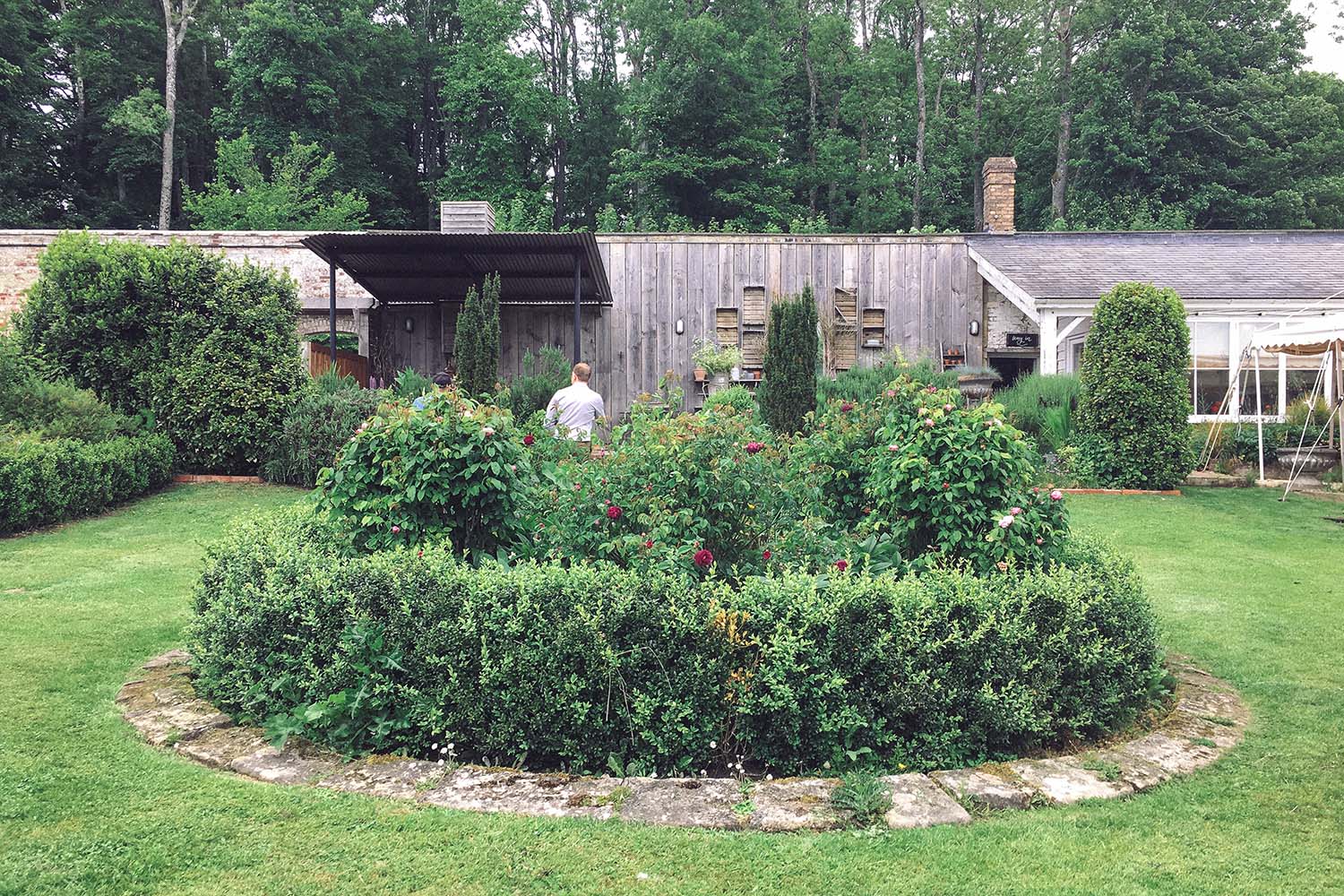 Pythouse Kitchen Garden also offers glamping for those who prefer to stay a little longer. There is a comfortable shepherd's hut for two or five bell tents set up on site in the private garden just below the flower beds. Bell tents should be booked together, ideal for parties and celebrations. The Glamping Village is very self contained and has several fire pits, places to sit and relax and a fully equipped kitchen/dining room.
And, if you're staying a while and not rushing through the hustle and bustle, we highly recommend renting e-bikes from Cranks and boards at Tisbury. They are fast and fun, and if you want to explore the area there is so much to see and many wonderful pubs to visit.
Pythouse Kitchen Garden is an enchanting place rich in charm with a capital 'C'. The menu is created with a love for respectful cuisine and beautiful ingredients. It's a truly wonderful escape that will nourish the soul and the stomach.